After months of speculation, US Senate Majority Leader Chuck Schumer revealed his long-awaited marijuana legalization bill this morning. The measure closely resembles the MORE Act, which passed the House last year but failed to find traction in the Senate.
The bill would remove cannabis from the federal list of controlled substances, expunge federal cannabis records, impose a federal tax on marijuana, and reinvest that tax revenue in communities and individuals most adversely affected by the War on Drugs.
The new bill, known as the Cannabis Administration and Opportunity Act, was officially introduced by Sen. Cory Booker (D-NJ) today. Along with co-sponsor Sens. Wyden and Schumer, he hopes to remove cannabis from the federal list of controlled substances and to reinvest that money into communities in the most affected by drug laws.
What's Coming?
Something different about the bill is how it directly addresses inequalities in cannabis legalization today. "The communities that have been most harmed by cannabis prohibition are benefitting the least from the legal marijuana marketplace." The statement goes on, "A legacy of racial and ethnic injustices, compounded by disproportionate collateral consequences of 80 years of cannabis prohibition enforcement now limits participation in the industry."
Stepping Up the Cannabis Legalization
In his introductory speech at the press conference announcing the bill this morning in Washington, DC, Senator Cory Booker made it clear that federal legalization with equity would take precedence over previous partial efforts like the SAFE Banking Act.
The banking measure that was not passed in either of the chambers, would have allowed financial institutions to be able to provide services for state-legal cannabis businesses without fearing federal penalties. It would have provided relief for these entities but offered no relief like releasing all arrests annually or giving any retroactive punishments.
Booker announced his opposition to a banking act that does not offer any criminal justice relief or equity measures.
Reinvestment Measures are Included
The bill would create a new Community Reinvestment Grant Program aimed at providing grants to organizations that work to advance the social justice movement.
It also would establish a Small Business Development Program that provides financial assistance and technical support for minority-, women-, veteran-, and LGBT+ -owned small businesses in the cannabis industry.
Schumer said he is confident his legislation will pass by next summer as public opinion has shifted more in favor of legalization over time, with 64% now saying they are in favor of legalizing marijuana nationwide (up from 32% just three years ago).
The bill faces challenges before it can become law like any proposal requiring 60 votes in the Senate; but should Democrats succeed in taking control of both houses this November, Senator Schumer says his measure stands an excellent chance of passing because President Trump
Where about Republicans?
The bill had no Republican co-sponsors upon introduction.
Even if it passes the House of Representatives, Schumer and company will need some Republicans to vote in favor of it — a feat which is unlikely to happen.
A host of different factors influence Democrats' opinions on marijuana legalization, not simply their party affiliation. Young people are more likely to support legalization than older people regardless of whether they have a D or an R behind their names (though the parties as a whole break down heavily – with Republicans less likely to be for it).
At least thirty members of Congress—some Democrats, some Republicans– oppose marijuana legalization because they fear it would lead to increased use among children and addiction disorders.
Meanwhile, most Americans have moved past the old mindset that marijuana should be illegal. The latest Gallup poll revealed 68% of US citizens supported marijuana legalization in November 2020.
Why is this Bill Different?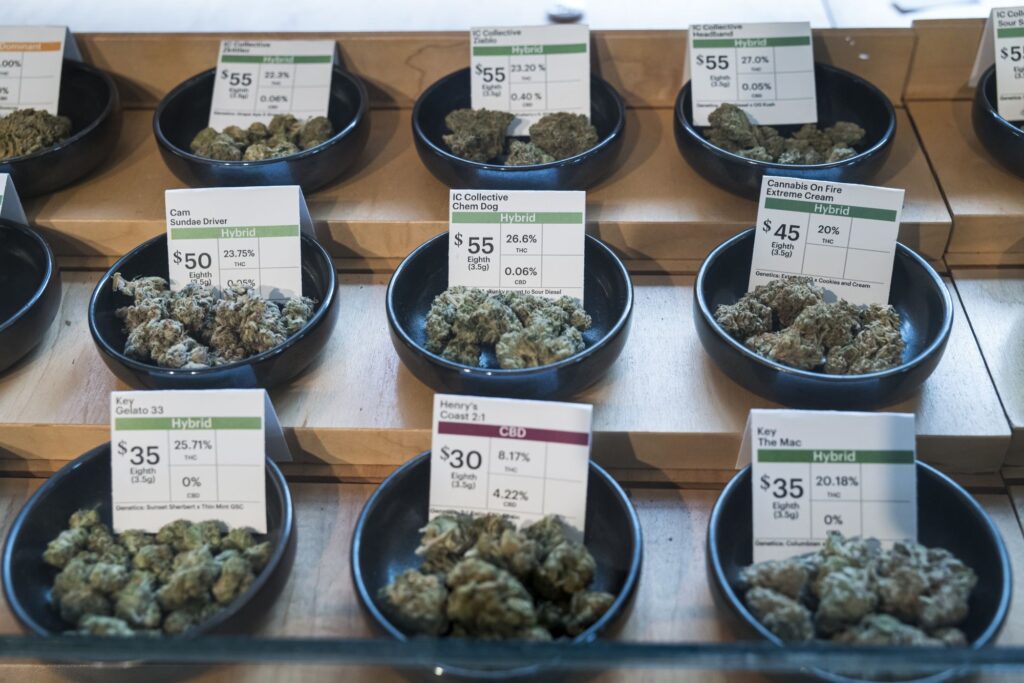 This legislation not only seeks to legalize marijuana; it also would expunge federal cannabis records and reinvest that tax revenue in communities most adversely affected by the War on Drugs. The measure also includes significant criminal justice reform provisions, which are designed to incentivize states to make sure their laws don't disproportionally affect black individuals or other minority groups.
What Does This Mean for State Legalization Efforts?
It's unclear how far-reaching the effects of such a policy change might be: The text leaves open questions about whether or not individual states could still regulate against certain substances within their borders (e.g., imposing higher taxes), as well as what responsibility they would have towards enforcing federal drug trafficking statutes.
What Does the Bill Actually Do?
If passed, the bill would:
remove cannabis from the federal list of controlled substances and expunge all prior marijuana convictions.
It would impose a nationwide prohibition on sales to minors (with allowances for those 18-20 years old in states with legal recreational use),
institute standards for packaging and labeling designed to prevent accidental ingestion by children,
regulate interstate commerce in such a way as to include both importation and exports, allow grants for research into driving impaired by marijuana consumption or medical applications of weed, create an Office on Minority
Cannabis Business Development within the Department of Commerce led exclusively by minority individuals that have been negatively impacted by drug law enforcement efforts going back at least 30 years*,
provide means-tested tuition assistance funds based on financial need determined through FAFSA
The new bill also sets a standard for individuals eligible to apply for federal cannabis equity opportunities. Those individuals would need to meet one of the two criteria set out below.
Under this measure, anyone who meets both of the following criteria would be able to qualify for expungement:
individuals who earn no more than 250% of the federal poverty level and have been arrested for any combination of possession, use, manufacture, or cultivation of cannabis products.
the parents, siblings (including same-sex), spouses, and children (23 years old or younger) of individuals with a history as described.